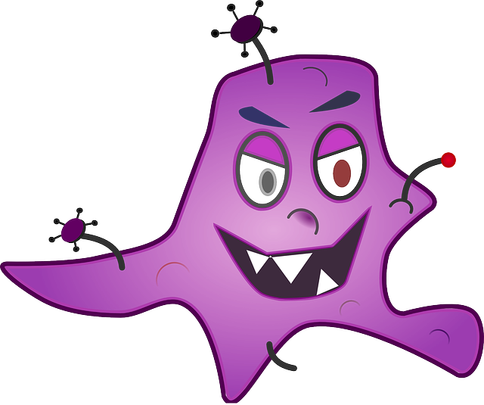 Wash Your Hands Often While Singing the ABCs
Thank you to Eliza Anderson and the AT3 Center for this post. Originally posted on the AT3 Center News and Tips page.
Wash your hands with soap and water for at least 20 seconds, especially after going to the bathroom; before eating; and after blowing your nose, coughing, or sneezing. Washing can protect you from infection and help protect others if you are a carrier of the virus. On the go, use an alcohol-based hand sanitizer with at least 60% alcohol if you have no access to soap and water. Here's a Popular Science recipe for homemade hand sanitizer gel (many stores are running low).
Disinfect Your AT!
It is still undetermined how long this new coronavirus may survive on smooth dry surfaces, but it could be up to 9 days (depending on what source you read). The CDC says, "Clean and disinfect frequently touched objects and surfaces using a regular household cleaning spray or wipe."
Door knobs, drawer pulls, light switches and counters, sure, but don't forget your AT. Mobile devices, computer equipment, braille displays, white canes, mobility equipment, communication devices, anything you and especially anything that others touch should be frequently disinfected.
Some AT devices are not supposed to be cleaned with spray cleaners (consult the manufacturers' recommendations). One option is a microfiber cloth that is disposable and anti-bacterial. Use your best judgment. For better or worse, spray cleaners can access crevices.
Here is a CDC list of approved cleaners for use with COVID-19.
Here are instructions from WIRED for cleaning mobile devices.
Here are instructions from wirecutter on disinfecting electronics.
Here are the CDC's Environmental and Cleaning Recommendations for Households Infected with COVID-19.
Don't Buy Masks to Protect Yourself
They won't protect you from coronavirus infection but can protect others from your sneezing and coughing if you are infected. Masks are also useful if you are not able to sneeze or cough away from others (such as into the crux of your arm).
Do Avoid Touching Your Mouth, Nose, and Eyes
In addition to hand washing and disinfecting surfaces, the CDC says to:
Avoid close contact with people who are sick.
Avoid touching your eyes, nose, and mouth.
Stay home when you are sick.
Cover your cough or sneeze with a tissue, then throw the tissue in the trash.
Stock Up to Stay Home
As of this writing, there are people instructed to stay at home for a variety of reasons (travel history, compromised immune systems, other precautions, illness). Clearly, some preparations are in order. If you are a caretaker for a family member who lives on their own, prepare their household as well. Here is a downloadable infographic that explains the need to prepare in simple terms (thank you TechOWL, the Pennsylvania AT Program).
Prepare to Work from Home
Some employers may ask employees to work from home as cybercommuters. If your workplace does not already subscribe to one, consider a video conferencing service. There are a variety of ways to remain productive as a team, from Skype with screen sharing to Zoom subscriptions. There are free plans and services that don't require downloading software (browser-based). Here is a comparison of six video conferencing options.
Combat Social Isolation
Therese Willkomm, Director of the ATinNH (the New Hampshire AT Program), notes this may become a critical issue this virus season, particularly for elderly family members. "This is where technology can be especially useful," she notes. If you have a tech-phobic loved one who doesn't have the internet, one solution is taking an old smartphone and using it to create an internet hotspot (if they're not in a cell service dead zone).
"Take out that old backup phone, add a line to your cell plan, and plug the phone in under their bed or somewhere," Dr. Willkomm recommends. "Now you can connect an Amazon Echo Show and drop in on your parents face to face!"
She recommends Echo Show ($90 new on Amazon) because your loved one does not need to touch it or do anything to receive the video call. For face-to-face visits, both parties can use an Echo Show or you can drop in using the Alexa app on your smartphone or tablet. Regardless, both parties will need to download the Alex app to their smartphones. The Alex app allows users to select which of their contacts to permit to "drop-in." Read How to Set Up and Use Drop-In on Amazon Echo Devices. Here is a product review of the Echo Show for use with seniors.
Another cheaper option is voice-only drop-in using an Echo Dot ($50). Again, this is a way to talk to a person without their having to touch or answer a device (like an intercom). Learn more about free voice and video calls using Alexa devices from PC Magazine.
______________________________________________________________________________________________________
Covid19/Coronavirus Information. USSAAC recommends inidividuals/families/organizations consult the U.S. Government CDC (Centers For Disease Control) website for information on this rapidly changing situation. Consult the CDC website at this link:
This is your best resource of information. USSAAC will not be answering specific questions as this is not our area of expertise.
_______________________________________________________________________________________________________
Further reading:
5 Things to Know About Coronavirus and People with Disabilities
CDC's comprehensive COVID-19 preparedness web page.