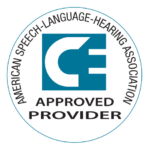 INSTRUCTIONS FOR ASHA CEUs:
To obtain ASHA CEUs you must complete the
On the top of the form, please indicate your USSAAC member number, (e.g. write in "USSAAC member #12345). If you are not a USSAAC member, CEUs are $25.00 US for each webinar. Use the Donation Page to pay the $25 fee via PayPal.On the top of your form, please indicate the PayPal receipt number, which will appear on the email confirmation your receive from PayPal, e.g. Receipt No: 2000-000-000-0000.
Scan and email your completed CEU form to betsy@augcomsolutions.com NO LATER THAN TWO WEEKS from the date of the webinar for which credit is being sought.
Custom Webinars for 2023
This seminar will educate the target audience of adult individuals who use AAC, families, and professionals who support AAC users on the barriers to employment for people who receive SSI and SSDI and how to address those barriers. The audience will hear from an AAC user on how working has affected her SSI benefits.

Date & Time: October 18th, 2023 @ 7:00pm

Website: https://us06web.zoom.us/webinar/register/WN_-hGqfHiITq-urDBE45UKyw#/registration

Files:

DESCRIPTION: Following a conversation with a firefighter in 2014, the presenters realized emergency firstresponders were not being trained for interacting with individuals who have complexcommunication needs. This session will discuss…

Date & Time: September 20th, 2023 @ 7:00pm

Website: https://us06web.zoom.us/webinar/register/WN_QvPu2-aoT1yY4zVkshnciw#/registration

Files: