Most families in Puerto Rico were affected to some degree by the destruction left behind by Hurricane María in September 2017. In January 2020 the Southwestern part of the island was hit with yet another disaster, a 5.4 earthquake with multiple aftershocks and tremors persisting until this day. To make things worse, the worldwide pandemic, COVID 19, has also affected our island, putting people with disabilities, who are specially vulnerable to this type of disease, in a very dangerous situation. Through these events it has become evident that people with disabilities and their families do not have knowledge on how to prepare themselves for a disaster or emergency, resulting in the deterioration of their physical and mental health.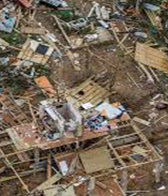 The absence of an established plan that includes people with access and functional needs is still endangering the safety of people with disabilities to this day. Shelters are not accessible, there is no registry of the location of people with disabilities or transportation planning in case of an evacuation. Importantly, communication alternatives have been deficient when offering instructions or information regarding the emergency on hand.
According to the results of the 2016 American Community Survey (ACS), Puerto Rico has a population of people with disabilities, not institutionalized, of all ages, of 21.4 percent. In 2016, 726,100 of the 3,386,000 people of all ages reported one or more disabilities (CDC 2019). Though there is no official census regarding the distribution of disabilities in Puerto Rico, on May 5, 2016, Univision of Puerto Rico wrote an article regarding the lack of statistics for the deaf population on our island. They estimated that the population of deaf people in PR ranges from 80,000 to 185,000, approximately 8% of our population.
The gap in emergency planning, as far the deaf and hearing-impaired population is concerned, has been especially noticeable during these events. We have witnessed the difficulties faced by the deaf community to effectively communicate with the hearing population. This situation affects the quality of services offered to them, creates a challenge in their daily routine and infringes their safety, an issue we saw repeatedly after Hurricane Maria. First responders and designated agencies working after the disaster had no knowledge of sign language to provide clear instructions to the deaf community, putting them in harm's way.
Understanding the need for preparedness efforts for people with disabilities and their inclusion in the island's emergency plans, we developed a capacity-building program specifically designed for training individuals, family members, communities, volunteers, first responders and public or private agencies. Our Management and Preparedness for Emergencies for People with Disabilities is an extensive training program, including an educational tool, specifically designed for understanding and responding to the needs of people with disabilities in disaster mitigation, preparedness, response and recovery.
To this day, 4,612 people with disabilities, their families and community members and 5,852 agency participants and first responders (a total of10,464 people) have been educated about inclusive emergency planning and preparedness.
USSAAC has played an important role with this initiative by contributing with funds dedicated to cover the cost of 40 hours of sign language interpreters which have been used in a variety of trainings. Some of these trainings include workshops regarding "Emergency Preparedness for People with Disabilities" offered to the deaf community and first responders, "Understanding the Deaf Culture" which is offered to first responders who are studying sign language in order to communicate effectively with the deaf community.
These efforts are resulting in people with disabilities, their families and caregivers receiving instruction as to what supplies they need and procedures to follow according to the disaster or emergency, promoting their self-sufficiency and safety. If they are prepared, the probability of lacking essential necessities like food, water, medications, medical equipment, etc. while they wait to be rescued or provided with essential needs will be decreased.
Our first responders are getting a clear understanding of the characteristics and correct ways to handle each type of disability during an emergency. When provided with basic sign language courses, which were developed with specific signs involving emergency concepts, a primary communication is possible until an interpreter is available. This information will grant first responders with the knowledge of how to help and what to do in a situation involving people with disabilities and the confidence to interact with them during an emergency. This results in a feeling of trust in the person being rescued, increasing the possibility of cooperation from the individual and the possibility of a successful rescue.
The major challenge we still confront is the resistance toward changes in the public system to include people with disabilities in the disaster mitigation and preparedness part of emergency planning. We understand it is a complicated process that needs to be done and are willing to continue creating awareness of the needs of this community and advocating for their rights, all done through education and the involvement of stakeholders in the process.
Partnerships with agencies involved with emergency response efforts, independent living centers and organizations serving people with disabilities are being established to ensure that they serve as future proponents of this initiative.
Training agencies and community partners on the principles of inclusive emergency plans is indispensable to ensure full integration is critical for the safety and wellbeing of people with disabilities. By creating awareness and sensibility in our society, we make positive changes in our culture.
"Disasters are inclusive; the response and recovery are not, unless we plan for it…"

June Isaacson Kales, MSW, Home Family Center for Disability and Health Related Policy at Western University of the Health Services
---
Author: Mildred de la Torre
Movimiento para el Alcance de Vida Independiente
San Juan, PR
Author's Bio: Mildred de la Torre has a Bachelor's Degree in Advertising and vast work experience in sales and product image branding. In 2015 she started working as a Resource Developer for an independent living center in Puerto Rico. Since Hurricane Maria she has been immersed in recovery efforts and has become an active member in Voluntary Organizations Active in Disaster and Core Advisory Groups in order to advocate for inclusive emergency planning and ensure the safety and wellbeing of PWD.