USSAAC Speak Up! blog and the AAC awareness committee are excited to launch a new series that features the stories of people who use AAC in the form of custom-made videos. We thank Patrick Regan for kicking off the series!
About the Author
Patrick Regan is 28 years old, and he has been using AAC for 26 years (since he was about 2.5 years old). He is a member of USSAAC's AAC Awareness Committee, and ISAAC's LEAD Committee, and is one of the moderators/chat leaders for ISAAC's PWUAAC bi-weekly chats. Patrick is the Coordinator of Activities and Events for Bridging Communities Through Alternative Communication ("BCTAC"), an adult outreach program of The Bridge School. He is its Co-President. And he has been a member of that group for 10 years. And Patrick also is the Senior Media Tech and Media Tech Coordinator for St. John United Methodist Church. He uses a speech generating device via eye-gaze, other low tech communication strategies, including spelling and partner-assisted scanning, and a trackball for accessing his computer. Patrick lives in Anchorage, Alaska, and he has spinal muscular atrophy.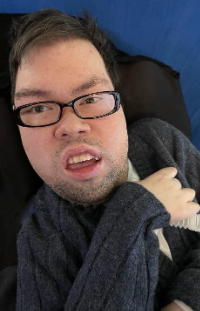 Introduction
I made a video about the Communication, Video, and Technology Access Act which is currently pending before Congress, to advocate for passage and urge others to advocate for it as well. This is what inspired me to do it:
During the pandemic, I have relied heavily on the Internet and virtual activities and events to perform my leadership responsibilities, to work, take fitness classes, for telehealth appointments, and to stay connected with friends and the community.
Having access to virtual platforms is wonderful. But it has its challenges. For example, I have noticed that the automatic captioning does not accurately pick up the words we speak with our speech generating devices and text-to-speech software. That has impacted our ability to communicate with our friends who are deaf and hard of hearing. In BCTAC, one of the parents of several of our members is deaf. And poor captioning is a barrier to having her know what we have said, unless we manually type it into the chat. That can be difficult to do in real time.
One of my parents drew my attention to a post on Communication First's Facebook page about the CVTA. I took some time to learn more about it, and the 2010 law that it is intended to amend. And, I realized how important the CVTA is to all people who experience disabilities, and in particular the deaf and hard-of-hearing, and blind and visually impaired, and AAC communities.
In December, 2022, I had the opportunity to meet my state's new Congressperson, Mary Peltola, at a virtual community gathering of about 120 people. During the Q & A, I decided to just go for it and ask her to support the CVTA. Using my AAC, I told her about my disability, and my communication. I explained that during the pandemic, the general public temporarily experienced some of the loneliness and isolation that have been, and will continue to be realities for people who experience disabilities and the elderly, even after the pandemic restrictions lift. And I explained how technology, in particular virtual platforms helped all of us to connect with the rest of the world. I told her about the pending bill. And I asked her to support it and to urge her fellow members of Alaska's Congressional delegation to support it as well. My comments appeared to be well-received by Representative Peltola and the others in the virtual gathering.
I shared about that exchange at one of our AAC Awareness Committee meetings. Our chairperson, Tina Moreno, who is a speech language pathologist and parent of an adult AAC user, suggested that I consider making a video about it. I thought that was a great suggestion. So, I made the video hoping that it would encourage others to help advocate for passage of the CVTA. I think that it is very important for all of us who experience disabilities to advocate for laws and regulations that will help us lead full and productive lives, and to support the efforts of lawmakers who are trying to help us.
Video